DEVINE IMPACT – Services Provided
Devine Impact Fitness & Wellness is a boutique fitness studio offering personal training, small group fitness classes, and motivational wellness sessions. As a start-up, Datasign Marketing was along for every step of the launch and beyond. Datasign provided branding, web development, & social media strategy to launch the business. We continue to work on community nurturing, SEO and email list building.
Branding – Logo Design
The Devine Impact Fitness & Wellness Logo was created with symbols that represent the mantra of the business owner. She always says, "doing a little bit for yourself and your health each day results in more long-term results, leading to happiness." Datasign worked from this and included mathematical symbols < = >, less is more, to graphically capture the mantra in the Devine Impact logo.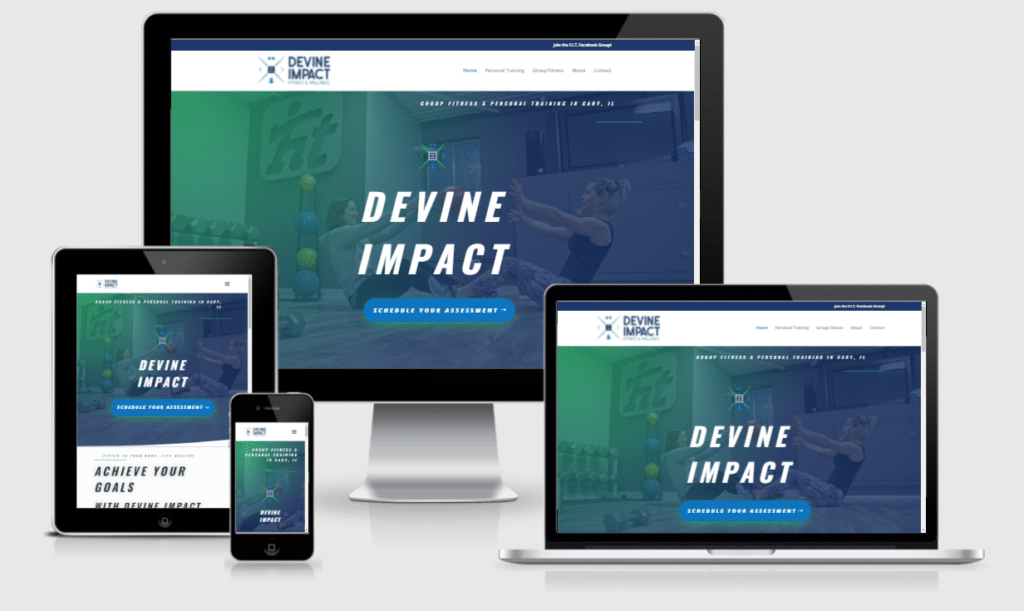 Website – Copywriting & Imagery
The next step in building Devine Impact's brand was to develop a website. After consulting with the client about what was important for her users, Datasign Marketing developed copy for the pages and scheduled a session to take photographs in the studio. The website was ready to launch on International Women's Day of 2021.
Social Media Strategy
To begin spreading awareness of Devine Impact Fitness & Wellness, a social media strategy was established with a starter pack of graphical content pieces to assist in the launch. The client manages their own page, but our line of communication is always open for content creation, additional strategy, and paid advertising.
In addition to the main Facebook business page, Datasign consulted with the client about creating an online community through a private Facebook group. In the group, members have access to live workouts, recipe inspiration, and uplifting support. The group serves a dual purpose as a list building tool for email. To join the group, prospects fill out a survey and agree to email communications in return for group access.
Content Creation
To assist Devine Impact with Social Media efforts, graphics are created for special events and holidays, copy for social posts is provided upon request, and video clips are developed to help drive engagement. This allows the client to focus on providing their services, while Datasign can manage the social media and marketing goals.
SUCCESS AND CONTINUED SERVICES
Devine Impact only launched in March of 2021 and within 2 months achieved sign-up goals that were targeted for the six month mark. This project is ongoing as we continue to set higher goals and broaden our marketing approach to email campaigns and SEO. After only a year, Devine Impact is considering expanding to a larger location and hiring additional staff.